We often notice new startups come up in the evolving business landscape daily with fresh and new ideas.
With so many startups being introduced in the business world, there is a rise in cutthroat competition, forcing startups to hustle to stand out against their rivals.
Amidst numerous solutions available for startups to differentiate themselves from others in the market, one completely reliable solution is having an application.
Apps allow your startup to reach a large audience, resulting in easier discovery of your products and services, thereby spreading awareness about your offerings.
However, just having an application is not enough. Statista reports show around 2.59 million apps in the Google Play Store itself till July 2023!
That's a lot, right? We only saw apps on the Google Play Store, but there are other operating systems, too; can you imagine how difficult it is to be noticed?
So how can you create an app that stands out from other online apps?
The solution is simple yet challenging. To get an app that stands out among others in the digital landscape, you need to get the right technical expertise by your side: an app development company!
Keep reading as we guide you through the entire process of picking the right app development company for your startup.
How to Find an App Development Company for a Startup ?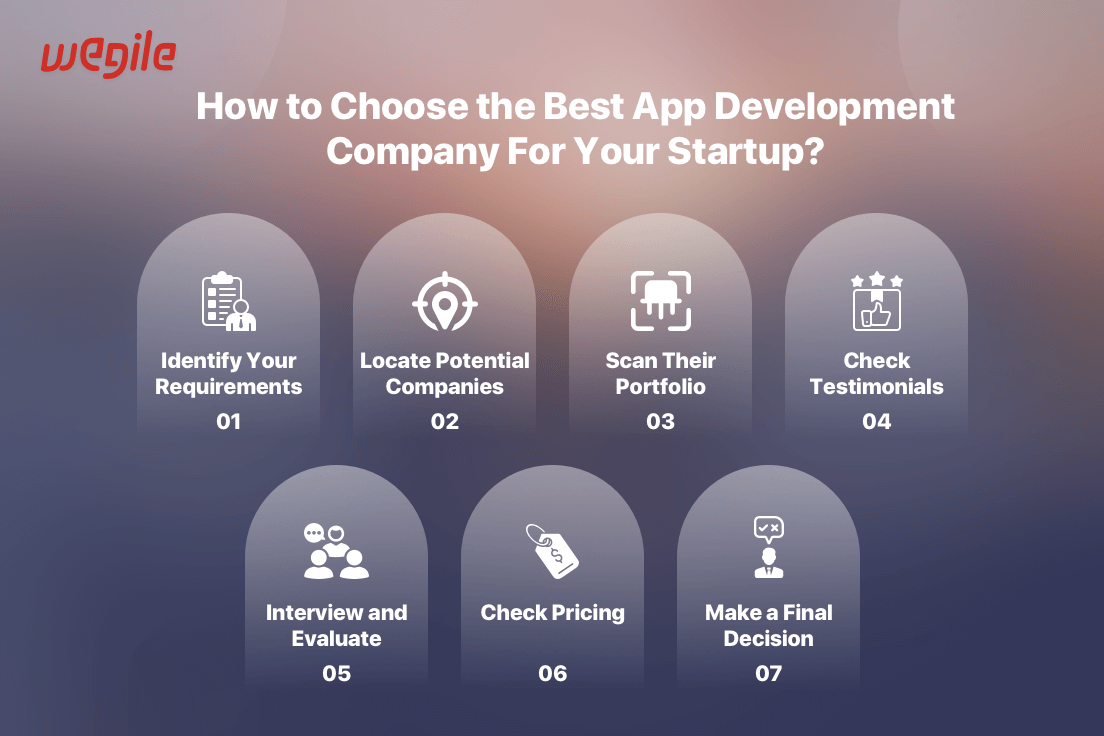 1. Identify Your Requirements

Before starting to search for the perfect app development company for a startup, it's essential to define your app's requirements.

What platform will your app be on – iOS, Android, or both? What specific features do you need? What's your budget, and what is your timeline for development? Knowing these details will make the selection process much smoother.

In addition to identifying your app development requirements, it is important to stay informed about mobile app development challenges that businesses face today.

Furthermore, consider your target audience and the unique value your app will provide to users.

Understanding your potential users' needs and preferences is critical in tailoring the app's functionality and design to create a compelling and user-friendly experience.

By integrating all these perspectives into your requirements, you'll be better equipped to identify a development partner that can bring your vision to life and resonate with your target audience.

2. Locate Potential Companies

Locating potential app development companies is a crucial step in your journey to find the ideal partner for your startup project.

To ensure you cast a wide net and gather a diverse list of candidates, consider the following strategies:

Online Research Start by utilizing online resources. Search engines, social media platforms, and professional networks like LinkedIn are excellent places to begin. Use relevant keywords and phrases to find companies that specialize in your project's technology stack and industry.

Ask for Recommendations Leverage your professional network. Reach out to colleagues, mentors, and fellow entrepreneurs for recommendations. They may have firsthand experience working with app development companies or know of trusted contacts who can provide referrals.

Attend Industry Events Participate in industry events, conferences, and meetups related to app development, technology, and entrepreneurship. These gatherings provide valuable opportunities to meet potential partners in person and get a sense of their expertise and company culture.

Check Online Marketplaces Websites like Clutch, Upwork, etc can be valuable resources for discovering app development companies. These platforms often feature ratings, reviews, and profiles that can help you identify top candidates.

3. Scan Their Portfolio

A company's past work can tell you a lot about their capabilities. Take a closer look at their portfolio to see if they have experience with projects similar to yours.

Pay attention to the diversity of projects they've handled – it demonstrates adaptability and expertise.

It's also important to assess the quality of the apps they've developed and whether they match the standards you're aiming for with your own project. This will help you gauge their expertise and creativity.

4. Check Testimonials

While a portfolio provides insight into their work, reading client testimonials can offer a glimpse into the experiences of others who have worked with the company.

It's an excellent way to understand their reputation, customer satisfaction, and how they manage client relationships.

Look for patterns in the feedback, such as on-time delivery, clear communication, and the ability to address and resolve issues effectively.

5. Interview and Evaluate

The interview and evaluation phase is critical when selecting the right app development company. Here's a step-by-step breakdown of how to approach this phase:

Interview Multiple Candidates Don't limit yourself to just one app development company. Interview at least three to four potential companies. This will give you a broader perspective and help you identify the best fit.

Evaluate Team Expertise Assess the expertise of the company's team members. What is their experience with the technologies required for your project? Ask about their relevant certifications and qualifications.

Project Timelines Clarify project timelines and inquire about their ability to meet deadlines. Delays in development can have a significant impact on your startup's success, so it's crucial to ensure the company is committed to meeting your project's milestones.

Communication Effective communication is vital. Discuss how they keep clients informed about project progress, changes, and any potential issues. It's essential to have a transparent and open line of communication.

Client References Request client references and case studies. Speaking with past clients can provide valuable insights into the company's reliability and the quality of their work.

6. Check Pricing

While cost isn't the sole determining factor, it's essential to ensure it aligns with your budget. Request detailed pricing proposals from the remaining companies and compare them.

Keep in mind that the lowest cost option might not always be the best choice, as quality and service should outweigh cost savings.

Consider factors such as the payment structure (fixed price or hourly rate), additional costs that may arise during development, and the flexibility of the company in accommodating changes or additions to the project scope.

7. Make a Final Decision

After thorough research and evaluation, it's time to make your final decision.

Consider all the information you've gathered, your interactions with the companies, and your gut feeling.

Choose the company that aligns best with your vision, budget, and expectations.

Be sure to communicate your decision clearly and in writing, outlining the project scope, timeline, and payment terms to avoid misunderstandings down the road.
Why Wegile is An Ideal Choice For Startups To Build Apps?
Wegile stands out as the ideal partner for startups venturing into the world of app development. With a decade of experience, we've successfully delivered over 1000 mobile and web apps, attaining a deep understanding of the app development landscape.
Our startup-centric approach is finely tuned after working with over 200 startups spanning diverse industries. We grasp the unique needs of startups—flexibility, cost-efficiency, and speed—and tailor our services accordingly. When you partner with Wegile, you gain a team attuned to the nuances of the entrepreneurial journey.
Our portfolio showcases our ability to deliver high-quality web and mobile apps across various sectors. Whether your startup operates in health tech, e-commerce, or any other domain, our history of success underscores our commitment to excellence and innovation.
Collaboration is at the core of our approach. We involve you in every step of development, ensuring your vision remains central to our work. Scalability is also a priority, with solutions designed to grow with your startup. Our commitment to client satisfaction and exceptional service sets us apart, making Wegile the perfect ally for your startup's app development journey.
Wrapping Up
Selecting the right app development company is a pivotal step in the success of your startup.
Take your time in each stage of the process, from defining your requirements to making the final decision.
By following this guide, you'll be on the path to partnering with the best team to bring your app idea to life and contribute to the growth of your startup.
Remember, the investment in the right app development company is an investment in the future of your business.
Trust Wegile for your app endeavors and reach out to us today to explore the possibilities.
Contact us for a consultation and let's embark on your startup's app development journey together